Adam's Bookshelf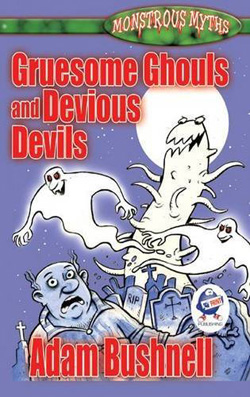 Gruesome Ghouls and Devious Devils
Imagine stepping into the fog of Victorian London. See the swirling mist all around you. Feel the chill in the air. Taste the fear drying your mouth. Smell the stench of rotting flesh . . . Hear the stories that will make your blood run cold.
This is a book to be read in gloomy light.
This is a book of Gruesome Ghouls and Devious Devils.
Adam Bushnell gives us eight brand new retellings of classic Victorian Ghost stories.
A book to chill the spine . . . and make you laugh!
A lively and surprising collection of tales to read or to tell.
Listen to Baba Yaga Bony Legs.